Invoice Factoring for Manufacturing
Accounts Receivable Financing gives you a high advance for your outstanding manufacturing invoices.
Does your manufacturing company struggle to purchase the raw materials needed to keep up with customer demand? Do you have to run a balance sheet report before paying your employees on Friday? You should consider Manufacturing Factoring. Invoice Factoring, also called Accounts Receivable Financing, is how small to midsize manufacturing companies with little or no credit acquire the funding they need to cover their daily expenses.
Sell My Invoice will purchase your accounts receivable and provide you with the immediate funds you need to run your manufacturing company. We deliver same day cash advances so you can buy new inventory, cover everyday expenses, and pay your employees worry-free.
What is Manufacturing Factoring?
To understand what Manufacturing Factoring is, it may help to first know what it is not. Invoice Factoring is not a loan and does not increase your debt. Instead, it is an advance payment for products you've already sold and billed for. Because we have no minimum requirements for how much of your receivables you can exchange for cash and a maximum of $10 million per month, your manufacturing company has total flexibility to increase financing capabilities as your company grows. In other words, the more you have in receivables, the more funding you can access.
How Accounts Receivable Financing Works
Unlike a commercial bank loan, applying for AR Financing is simple and the approval process takes less than a week. You'll have an answer by Friday, and you can start cashing in your accounts receivables immediately. Submitting your invoices and getting paid is easy. Here's how:
Send us your invoices
We pay same day cash for accounts receivable with no required minimum amounts and a maximum of $10 million.
Get cash today
We will deposit your payment directly into your bank account so that it becomes available within 24 hours. Our processing department will send your payment immediately. You no longer have to wait for slow paying clients to fund your everyday business expenses.
We'll Collect Payment From Your Clients
When you work with Sell My Invoice, you get much more than a payment advance. We will partner with your business and handle the administrative functions pertaining to your submitted accounts payable invoices such as collections, payment processing, and more.
How Do Manufacturing Companies Use Factoring?
Manufacturing companies use invoice factoring to cover their production costs such as direct materials, direct labor, and manufacturing overhead. We help your business get the materials you need to cover your expenses and fill customer orders without slowing down production or denying service to customers because you do not have the funds to purchase enough materials to meet product demand. We also offer Purchase Order Financing.
We work with manufacturing companies from every sector, including:
Automobile manufacturers
Metal manufacturers
Plastic injection molding manufacturers
Metal manufacturers and fabricators
Computer and electronics manufacturers
Coal and petroleum manufacturing
Textile manufacturers
Paper mills
Chip mills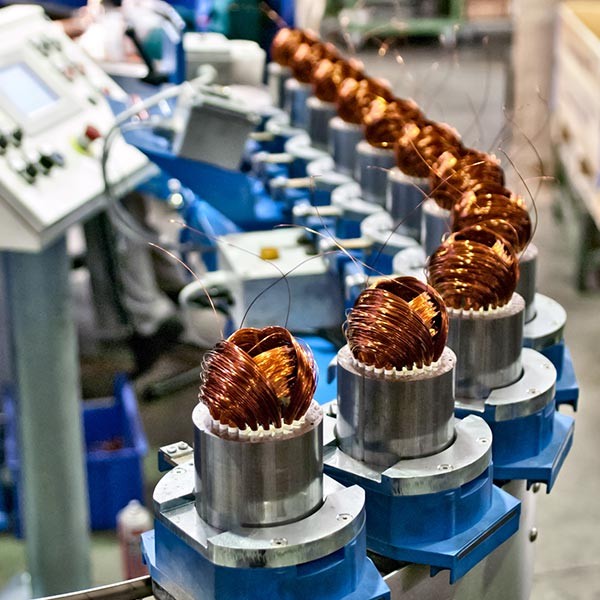 How Will Your Manufacturing Company Benefit?
Some businesses apply for a bank loan to cover their manufacturing expenses. However, if you compare a commercial loan with invoice factoring for manufacturing, the choice is easy:
Commercial Loan:
May take months to access
Increase company debt
One-time commercial loans run out quickly
Startups can't qualify for a bank loan for up to two years
Rigorous application process and qualification requirements
Requires a board of directors to approve loan
Growing companies may maxout credit limit quickly
Accounts Receivable Financing:
Get paid in 24 hours
Not a loan—no debt!
Ongoing monthly financing for as long as you need it
Easy funding for startups and small businesses
Low barriers to entry—excellent for companies with little or no credit
Local decision making speeds up and simplifies the approval process
Cash advance amount grows with your business: the more you sell, the more you can earn
Request A Quote
Request a quote today and we will contact you ASAP with more information and next steps. We look forward to working with you to provide ongoing factoring for your manufacturing company.